Sankey Canal
The Sankey Canal, known also as St Helens Canal and the Sankey Brook Navigation, is located in the North of England county of Lancashire and connects the River Mersey with St Helens. Although currently disused, plans for restoration do exist.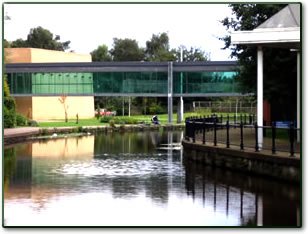 The canal was opened in 1757 and linked the mouth of Sankey Brook at the River Mersey to the North West of St Helens, running along the Sankey Brook valley. Over time it was extended to include Fiddlers Ferry and later Widnes at the Mersey end and into the centre of St Helens at the northern end.
Built principally to allow the transport of coal from coal mines in Lancashire to reach the chemical industries in Liverpool, it was also used to transport corn and iron ore. The rapid expansion of these industries saw them spread out along the line of the canal into the previously small towns of Widnes, Earlestown and St Helens itself. The Sankey Canal played a pivotal role in allowing the growth of industry in the region.
The canal was finally closed in 1963 following the end of sugar traffic in 1959. The canal had already been closed north of the sugar works in 1931. The canal had seen older wooden swing bridges replaced with fixed bridges.
Despite no longer being used for transport, the canal remains mostly full of water as far as the centre of St Helens itself, although in 1898 Canal Street was built over the former terminus of the canal.
---